For most visitors over the decades, the central allure of the Metropolitan Museum of Art has been its fabled collection of European paintings. Enthusiasts come repeatedly to see the Old Masters bequeathed to the museum by an array of collectors, including such mighty Manhattan names as Altman and Morgan, Wrightsman and Havemeyer (this last family donated nearly two thousand works to the Met). They come for the magic of the museum's five Vermeers and nineteen Rembrandts, for the finest collection of El Grecos outside Spain, the best French neoclassical painting outside France. And they come to admire such magnificent single purchases as Hendrick ter Brugghen's Crucifixion with the Virgin and Saint John; Velázquez's Juan de Pareja; Caravaggio's Denial of Saint Peter; and most recently, in 2004, Duccio's small but incomparable Madonna and Child.
As art critic Holland Cotter noted in the New York Times, the European galleries are the "raison d'être" of the Met—and yet it had been more than forty years since they were last redesigned, in 1972. After an extensive renovation and reinstallation, the galleries reopened in May. The collection now has fully one-third more space. Keith Christiansen, chair of the Department of European Painting, and his gifted team of curators have increased the number of paintings shown from four hundred fifty to more than seven hundred, spread throughout forty-five galleries. Many of those galleries have new floors and moldings; the walls are painted in elegantly subdued shades of gray, and lighting has been everywhere improved. The effect is to free these spectacular paintings from rooms we now remember as musty and drab.
Climb the Grand Staircase up from the Met's Great Hall, and wonders await you. As before, the high gallery with its towering Tiepolos—newly and stunningly lit—lures you on. But what follows possesses an entirely new grandeur and coherence. The long north-south gallery once filled with late-eighteenth-century French painting now has a bracing collection of Italian Baroque. Straight ahead unfolds a suite of galleries telling the story of Italian art from Duccio and Giotto through the full flowering of Renaissance Florence, culminating in a grand gallery of the sixteenth-century Venetians Titian, Tintoretto, and Veronese. If you turn to your left after the Tiepolo, an exquisitely orchestrated suite of seventeen galleries presents Dutch, Flemish, German, and English painting. Turn to your right, and a walk through seventeenth- and eighteenth-century Italian galleries leads you to the museum's masterpieces from France and Spain.
The effect of these works of art on a visitor is augmented by their ingenious presentation. Sculpture is adroitly introduced to enhance appreciation of a painting—like the two classicizing marble busts by Ippolito Buzio and Giuliano Finelli displayed in the Italian Baroque gallery. Several rooms bring a period alive through its domestic and decorative arts: a Florentine gallery with the ceremonial presentation tray created for Lorenzo de' Medici's birth, or a seventeenth-century Dutch gallery with embossed leather wall coverings and the celebrated Doomer cabinet.
The revelatory moments for the visitor are many. If you stand near the southern end of the Italian Baroque gallery, you can look to your right and see the Duccio (c. 1295–1300), encased in the center of the first gallery, and glimpse the Italian, Spanish, and Netherlandish altarpieces that follow. Straight ahead, at the beginning of the Northern Galleries, is Jan van Eyck's small diptych The Crucifixion and the Last Judgment (c. 1435–40), now taken from the wall and placed in a case in the center of the gallery. In the gallery just beyond is Memling's majestic Annunciation (1465–75), given space that newly reveals its splendor. Two galleries farther you find Joachim Patinir's The Penitence of Saint Jerome (c. 1518), catercorner to Pieter Bruegel the Elder's The Harvesters (1565). Where the Patinir is avowedly religious, with a fantastic landscape introduced behind its sacred scenes, the Bruegel is entirely secular, with peasants in place of saints and golden wheat as its sacrament. And so in one small gallery you witness the birth of landscape painting and then, just fifty years later, its emergence as the ground for a new humanism.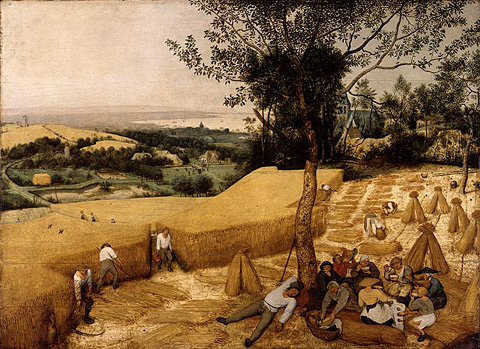 The next gallery continues this theme into the following century, with a splendid parade of landscapes by Jacob van Ruisdael, Meyndert Hobbema, Aelbert Cuyp, and others. The world shown here is charged with nature's meanings and moods, sublime in an entirely immanent sense. And what about the citizens of that world? In the jaw-dropping gallery that follows, we see how Rembrandt and Frans Hals portrayed them. The paintings fairly spring from the walls—Hals's Portrait of a Man, Possibly Nicolaes Pietersz Duyst van Voorhout (c. 1636–38), for example, in its elegantly simple new frame, or Rembrandt's Man in Oriental Costume (The Noble Slav) (1632) and Aristotle with a Bust of Homer (1653), which manages to infuse an academic convention with haunting mystery.
The opening of the new galleries is being celebrated with some exceptional loans, including Rubens's imposing Commander Being Dressed for Battle (1612–14) and Van Dyck's Portrait of a Monk (c. 1618). Just beyond Rubens and Van Dyck we enter the glories of sixteenth-century Venice, constituting the finale of the Italian Renaissance story. Venus and Adonis (c. 1545–46) and Venus and the Lute Player (c. 1565–70) by Titian are old favorites in the Met's collection, as is Veronese's Mars and Venus United by Love (1570s). But now Tintoretto's religious Miracle of the Loaves and Fishes (c. 1545–50) and secular Portrait of a Man (c. 1540) stand more proudly in that mythological company. And Jacopo Bassano's nocturnal Baptism of Christ (c. 1590), on loan and promised to the museum, adds a strikingly expressionistic note.
From here you can go back to where you started, at the Tiepolos, and follow the subtle sequence of galleries through  Italian painting of the seventeenth and eighteenth centuries, when Rome had become the Mecca for all artists. A gallery devoted to the Frenchman Claude Lorrain, the great seventeenth-century landscapist of Rome, leads you directly to his contemporary, the god of classical French painting, Nicolas Poussin, represented perhaps most typically by The Abduction of the Sabine Women (c. 1633–34), a tumult of opulent color and exquisitely orchestrated, counterposed forms. Poussin's eighteenth-century countrymen follow—Boucher, Fragonard, Watteau, Chardin—leading to a splendid gallery of neoclassical work and, further, to a striking presentation of French women artists.
You are now in the northwest corner of the galleries, with three rooms dedicated to Spanish painting and its many wonders. They come at you one after another. El Greco's View of Toledo (c. 1597), emblematic of the artist's mystical vision. Jusepe de Ribera's Holy Family with Saints Anne and Catherine of Alexandra (1648). The Shakespearean realism of Diego Velázquez's painting of his slave and servant, Juan de Pareja (c. 1650). Goya's beloved portrait of the little boy in red, Manuel Osorio Manrique de Zuñiga (1777–78).
How best to take in such all-but-inexhaustible grandeur? Christiansen, whose wit rivals his consummate scholarship, has suggested "beer tours" through the southern galleries, "Chianti and Frascati tours" through the Italians, and "Burgundy and Rioja tours" of the French and Spanish galleries. More seriously, he and his curatorial team have produced a lovely walking guide to all the museum's European paintings; it includes four tours of the new Old Master galleries and three for the nineteenth- and early-twentieth-century work.
You can follow any or all of these helpful tour suggestions. Or you may simply find yourself doing what most did on the opening night of the new galleries, when people wandered almost aimlessly, gasping at new sightlines, seeing favorite paintings now perfectly placed, getting a sense of what they would have to return many times to really see. The glory of the Met's new installation lies less in new acquisitions than in the way what is not new has been re-presented, so that you see it as if for the first time. You may come to feel, as many admiring visitors have, that you are discovering a whole new museum in New York.